By Peter Kelly
It was February 24th, 2002 and there was a steady wind out of the west.  I launched first and headed immediately to the south, Jim and John ventured over towards Walker and Bear Valley area but soon joined me on the ridge, as I told them about my discovery.
Note: See more detailed info about the Ridge on Google Maps at this link:  http://goo.gl/maps/X3MQ1
The proud pilots (at the end of the day): John, Jim and Peter
FYI, John moved to SoCal after his
company was bought up by Disney Corp.
I had an Olympus C700 digital camera with a 58 mm lens and was able to snap some good photos.
Approaching Bessa towers while heading southbound the tops of hills are shrouded in cloud, but good lift. Altitude is 3,080 ft (see display on the left) to stay out of the cloud, but will need to go around the western side of the peak to continue….
Past the towers, west of Winters and East of the lake, I'm doing 90 kts with 4 kts up at 3,100 feet MSL to stay under the clouds –  the Lift IS CERTAINLY PROVING TO BE RELIABLE!
With Jim and John  reporting that they are coming south from Bear Valley, I head north to intercept them, but have time for a quick bite of Lunch before they arrive…
At the north end of the run, nearing Rumsey Gap, I'm holding 2,800 ft ok, in good lift.
Somewhere in the distance, Jim and John are coming southbound towards me.
Here comes Jim-1B in his ASW 20, to make the run south towards the Bessa Towers
John-7HV in his Discus,  passes Jim on the left, and Jim picks up a right wing man position.
We start out high above the ridge and gradually fly faster and faster and exploring lower and lower – JUST FOR THE FUN ! I stay to the west of them and keep snapping the photos through the open window…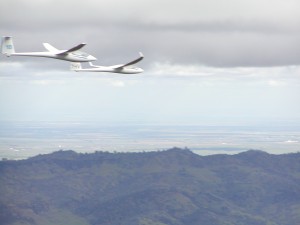 I move west and gain some height, so I can get better contrast, but they are pulling away from me…..
After one more shot of them cruising, southbound together, we all reverse and head north again, but now we pick up the speed to 90 knots and are able to fly below the top of the ridge, but that also dictates that Jim and John must fly single file…
At Rumsey we once again head south for a third run along the ridge, and I'm able to capture Jim as he picks up the pace…..
But he's moving too fast to stay with him…
Popping back up above the ridge, the formation resumes and I'm able to get in position for a few more photos ….
He's hard to see, but in this next photo John is still to the left of Jim.   We are about half way down the west side of Capay Valley
Time to head for home, and we go directly across Capay Valley as we initially proceed towards Williams..
However, John starts to head back towards the hills, and Jim slides below him, as he sees Rex in the FNX.  At that point Jim turns to the east and gives chase .
Jim closes in on Rex, but can't catch him.
I took advantage of the opportunity and transitioned from following Jim to chasing Rex.   I stayed with him all the way home and was able to get a few good snap shots just south of WSC.  A few days later, one of these photos was enlarged and the VSA presented the framed photo to Rex at his 40th Birthday party in March.  Last seen, this photo was hanging on the wall of the office.
(Here's Rex at his 40th party a couple of weeks later…)
Jim came along just before we all headed back for the landing at WSC, and I was able to get one last shot….
25 meter vs 15 meter wingspan – quite a contrast!
end.